Biography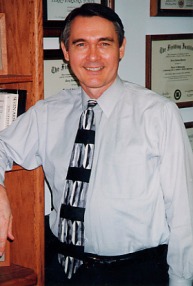 Dr. Terry Parsons is a husband, dad, psychotherapist, university consultant, teacher, United Methodist minister and the developer of COMMIT Seminars for dating and engaged couples, THRIVE Seminars for married couples and INTIMACY JUNGLE Seminars for singles. He is the author of
The Intimacy Jungle: How You Can Survive and Thrive in a Lasting Marriage.
His mission, through his counseling, speaking and writing, is to help people to make positive changes in their lives and relationships.
His educational background includes a Ph.D. in Clinical Psychology from the Fielding Graduate University in Santa Barbara, California, and a Master of Theology and a Doctor of Ministry degree in Pastoral Counseling from Southern Methodist University in Dallas, Texas. His undergraduate degree is in History and Sociology from Texas A&M University in Commerce, Texas.
Dr. Parsons established his psychotherapy and consultation practice in 1980. He is a psychological consultant at Southern Methodist University's Perkins School of Theology working with groups of seminary interns and mentor pastors. Dr. Parsons also teaches counseling courses at the Perkins School of Youth Ministry and at the seminary's Course of Study School.
His professional background includes being the pastor of a rural parish, a youth minister, a drug counselor and researcher, a hospital chaplain at Parkland and Presbyterian Hospitals in Dallas, and the minister of pastoral care and counseling at First United Methodist Church in Richardson, Texas.
Dr. Parsons' professional affiliations include: American Association for Marriage and Family Therapy, Texas Association for Marriage and Family Therapy, American Psychological Association, American Group Psychotherapy Association and the American Association of Pastoral Counselors. He is licensed in the State of Texas as a Marriage and Family Therapist and as a Professional Counselor.
Dr. Parsons and his wife, Kathleen, a musician and private music teacher, have been married since 1972. They are the parents of Laura, a counselor in private practice, and Adam, an environmental specialist.
---
To contact Dr. Parsons: email - ttparsons@aol.com; Phone: 972-437-3370 X 1