What People are Saying About the Intimacy Jungle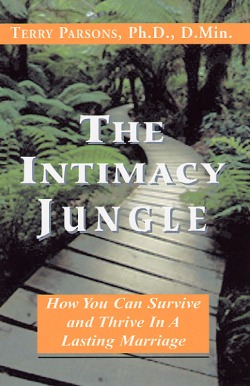 It's a jungle out there. A jungle more deadly than any alligator-infested swamp. It's the intimacy jungle--where your happiness and fulfillment for a lifetime are at stake. You may be dating, engaged, married, single, separated, or divorced. If you want a thriving, lifetime marriage, this book is for you. It identifies the factors that are absolutely essential to a lasting relationship.
This is your book! It's a revealing road map for those seeking a rich and lasting relationship. By putting the stories of real-life couples under the microscope in an entertaining way, Dr. Parsons shows you where to go - and how to get there - to bring your own marriage clearly into focus. Larry Holden, Writer and Senior Editor of Country Weekly magazine
If you are seriously dating, read this book before you become engaged. If you are engaged or married, read it now! This book is based on sound research and presented through wonderful stories. Hector Chapa, M.D., Lisa Chapa, M.S.W., COMMIT seminar participants
Dr. Terry Parsons has keen insight and a remarkable way of sharing it. His wise counsel is laced with humor and personal experience for people who are trying to share the joys of life together. These are words to live "by" and words to live "with". The Intimacy Jungle will be my close companion from the tropics to the frozen tundra, wherever I may roam.
Jeff Eliasoph, Television News Anchor
Dr. Parsons tantalizes us with the idea that we can take a romantic, intimate and even passionate journey with the same person for a lifetime... then he shows us how to do it! Kim Brown Cain, songwriter, vocalist; THRIVE seminar participant
The Intimacy Jungle
is a great preventive maintenance manual for pre-marital and married couples. It will also be helpful to couples on the verge of serious breaches in their relationship. The Reverend R. David Shawver, United Methodist Minister
For 45 years as a therapist, I have been looking for a reading source for couples. Here it is! Dr. Parsons has the experience as a couples therapist, and he has done the scientific research to find the answers for a good marriage. There are no easy answers, but there are good answers. Here they are!"
John Gladfelter, Ph.D., Marriage and Family Psychologist
.
---
If you would like to Order Autographed Copies of
The Intimacy Jungle
at $14.95 per copy, please contact us:
Phone from the Dallas area: 972-437-5048 Outside the Dallas area: 1-800-929-4841 Fax Orders: 972-437-4937 e-mail:
ttparsons@aol.com